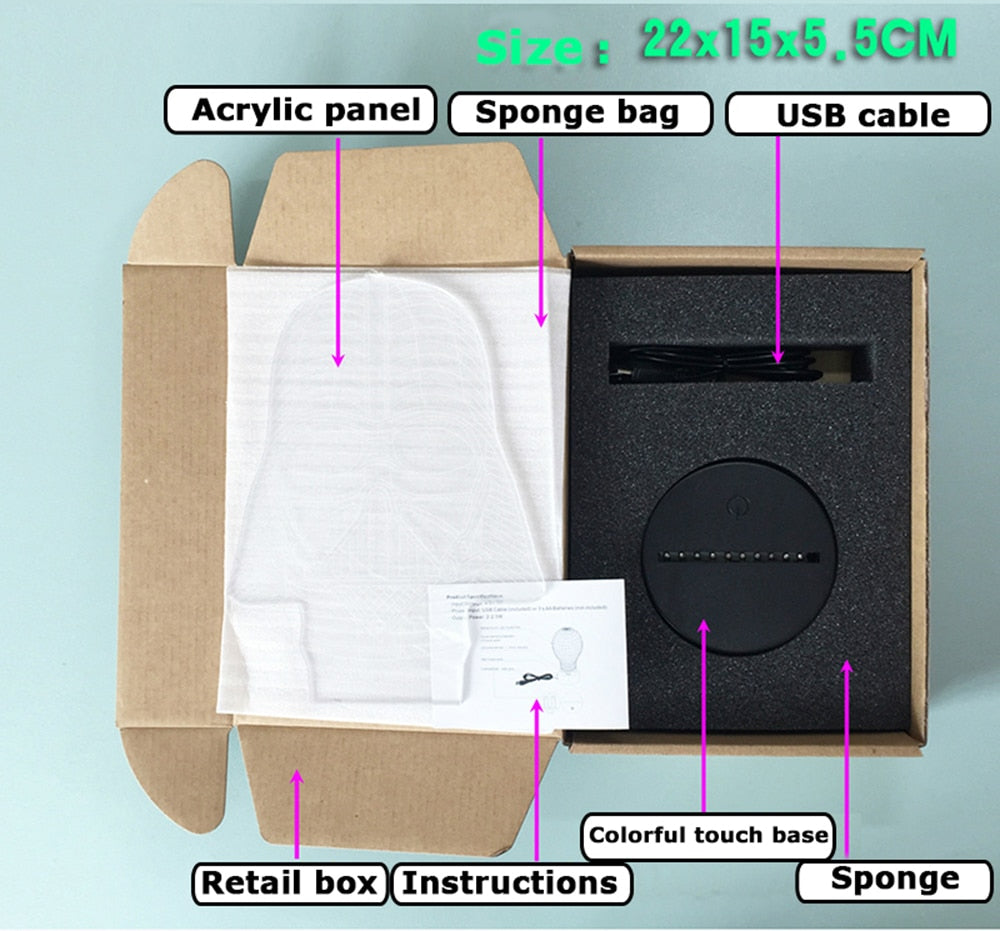 The 3D Lamp®
Anime Figure Madara 3D LED 7 Colors Changing Table Lamp Cartoon Night Lights for Children Room Decor Birthday Gift Night Light
$24.95 $50.00 ($65 DISCOUNT)
WANT ADDITIONAL DISCOUNT?
USE CODE " LOVE3D " IN CHECKOUT.
Anime Figure Madara 3D LED 7 Colors Changing Table Lamp Cartoon Night Lights for Children Room Decor Birthday Gift Night Light
We are  the professional 3D led lamp factory in shenzhen,China.
Focus on deco lights, we do supply good quality and high standard service. WelcomeRetailingandDrop-Shippingbusiness
THE BEST 3D LAMP BY FAR
- From afar, it's a gleaming 3D night Lamp. From up close, it's a technological miracle. The 3D Optical Illusion Lamp radiates light in a gorgeous 3D shape that will blow your guests' minds. That creates the 3D stereoscopic effect, A Laser sculpting that transmittance more than 98% light to the head of LED Night Lamp
UPGRADE YOUR HOME / OFFICE
- It's a total statement piece in any room, home or office and the LED light is as energy efficient as it's beautiful. LED Night Lamp is a flawless combination of art and technology that will transform any room in your home into a design destination.
"WOW" EVERYONE LIKES IT
- Show off your lamp choice of design to all of your friends, family, and co-workers, and turn any office or homeroom into a modern design place with this unique and modern art lamp. This is a perfect and trendy style which will extremely add plenty of character to any house.
3D LED Lamp Features:
*Provides over 50,000 hours of bright light
*Includes an energy efficient LED strip (Saving energy)
*Touch button to turn off, turn on and change the color visibility.
*7 Colors Mode: White, Red, Green, Blue, Yellow, Cyan and Pink.
*Easily turns on/off the handy power switch on the plug-in cord
*Automatic color changing mode available
*Power consumer: 0.012kw.h/24 hour
*LED Life: up to 50,000 hours
*3D Illusion Plate Only 4mm thick
*USB cable length: 150 CM
*Product Weight: 300g
What's in the box?
1x Acrylic Plate
1x Black Round Base
1x USB Cord
1x User Manual
We are professional Drop Shipping Service Supplier in Shenzhen China.Focus on 3d led lamp, we do supply good quality and high standard service. Welcome Retailing, Wholesale and Drop-Shipping business
All products well packed and fast Drop shipping door to door to your clients all over the world. without invoice and anything else in the shipping box.

With the SMT, Assembling, Shipping, Laser Cutting Machine, Laser marking machine
Group of Engineers and Designers, and sales team work with you.
24 hours Online Supports, 48 hours Goods shipping.

And we have to three warehouses which can do the fast shipping.
Shenzhen Warehouse , USA Branch Warehouse and Australia Branch Warehouse.

Be Attention To Other Vender's 3D Lamp
We are Strong At:
1) All lamps with 7 Colors Changing Touch Control,and some types with the remote control, With the USB Line and Battery Box.
2) All lamps well checked before shipped out. So you do not worry received the bad quality stuff.  Also we cover the after-sale service in the same time.
3) Clients whom will buy goods from our store, You will get an small gift from gift
4) All products shipping cover with 60 days protection warranty, Brazil Cover with 90 days protection.
5) Fast Drop Shipping Service, To USA, UK, Spain, France, Germany, Netherland,Canada, Fast Shipping dat at 7~14 days
Rest of world with fast 9`45 working days.